Baseball Player of the Year: James Wood's Colin McGuire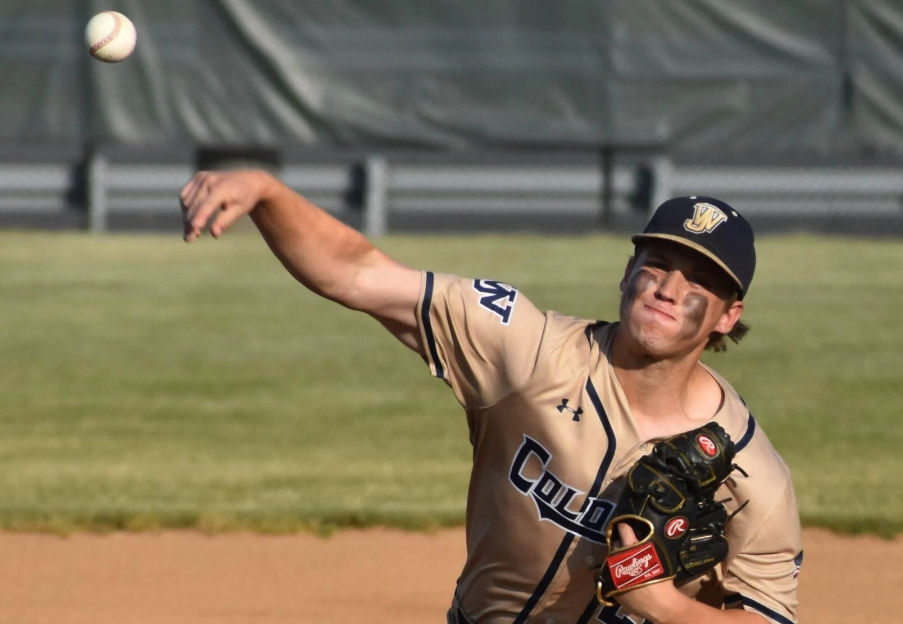 While many baseball players shrink when the outcome is on the line, James Wood's Colin McGuire is just where he wants to be.
Give him a ball, bat or glove and McGuire is ready to tackle whatever challenge is in front of him. He's ready to charge hell with a bucket of water.
"I love having all of the pressure on me," McGuire said. "If it comes down to it, I would love to have the game rest on my performance."
And, a lot of times this season for the Colonels it did.
McGuire responded on the mound by going 8-2 with a minuscule 1.01 earned run average, hit .368 with 15 RBIs, and played an excellent third base when he wasn't on the mound.
McGuire's solid all-around play earned him the Region 4C Player of the Year, the Class 4 Northwestern District Player of the Year and The Winchester Star's Baseball Player of the Year honors as he helped the Colonels reach the state semifinals.
James Wood (19-5) ran the table in all 12 district games to capture the Northwestern District regular-season title coming off the previous season where Colonels had played for the Class 4 crown.
This season's Colonels didn't have nearly the offensive pop as the previous spring, but they had a strong pitching staff led by McGuire and Nick Bell who were both First Team All-State selections.
Every outing, especially in the postseason, James Wood's pitchers knew that a bad day on the mound would make it very difficult to win a game.
"I wouldn't say it was pressure," McGuire said. "It was an honor to have that opportunity and the trust that coaches had in me to know I can get the job done even if we aren't scoring runs."
McGuire said the big difference for him this season actually started after the Colonels had fallen against Hanover in the 2022 title game.
That loss didn't dampen the enthusiasm that was created during the state title run.
"I think it was my mind-set going into the offseason after my junior year," he said of his improvement this season. "I saw how well we succeeded my junior year and I was just very eager to get back to that position. It kind of drove me to work hard in the offseason to get better on every aspect of the game. It really worked. I stuck with my coaches and trusted what they said and it worked."
McGuire said he especially worked hard in one particular area.
"I worked all offseason on my stretches and my hip mobility to get more rotation in pitching and it carries over in hitting, too," he said. "It helps with more power and seeing the ball better, too."
Certainly that worked, but James Wood coach Adrian Pullen saw another area where McGuire succeeded.
"I think his biggest improvement was mentally," Pullen said. "He was more prepared to be a pitcher and he really evolved into more of a pitcher than just a thrower. He's always had good stuff. It was just having little breakdowns from time to time. He'd allow a guy to get on or give up a hit and score a run. This year he was able to lock it down pretty much from start to finish."
And that gave the Colonels the most devastating 1-2 punch on the mound. Bell, the Star's Player of the Year in 2022, and McGuire fed off of each other as the Colonels began working their way to the top of the district and beyond. Bell, headed to Shenandoah University, finished 7-0 with a 0.89 ERA.
McGuire said the two made each other better pitchers.
"I love having Nick on my team," he said. "I'd rather not face him. We definitely push each other greatly during practices. Once he does something, you want to do the same thing back. Once I do something, he wants to do the same thing. We always push each other every time we pitch and practice. … We both are very well aware of our success in our high school careers. We definitely respected one another and all of our accomplishments so far."
"There's no selfishness between the two of those guys," Pullen said. "They push each other hard because they know what they could be and what that it meant to the team as far as from the pitching side. When either one of them were on the mound, we went into the game with the confidence that we could win not matter who we were playing. We knew they were going to do their job on the mound and everybody else could relax and do their job either defensively or offensively."
McGuire pitched well from the start. Down the stretch of the regular season, he'd blank eventual district tournament champion Kettle Run in a 5-0 win and go 5.1 innings in a 3-1 victory against Millbrook that clinched the regular-season title.
But, he was maybe more impressive in a pair of games where he did not get the victory.
In the Region 4C title game, he blanked Tuscarora for 7.2 innings before hitting his pinch limit and having to come out in a game the Colonels eventually lost 6-0 in nine.
And in the state semifinals, he gave up two first-inning runs against Hanover but blanked the defending state champions the rest of the way in a 2-0 loss. The two runs were the fewest any postseason opponent allowed against the Hawks, who beat Tuscarora 9-0 in the title game.
While disappointed with how the semifinal game started, McGuire realizes he gave it everything he had for six innings.
"I do think I could have pitched better in that first inning," he said. "I think I just lost focus, but at the same time that team is obviously the best team in the state since they won it all. Holding them to two runs is definitely a confidence booster for me, but I just feel like obviously I could have pitched better.
"A good outing is a good outing," he added. "[Six innings] of two-run baseball against the state champions definitely gave my team the best opportunity to win that baseball game."
McGuire throws four pitches (fastball, curveball, cutter and change-up), but he believes the combination of his curveball and cutter is what made him tough on hitters. The cutter was especially nasty.
"Overall throughout the year, my cutter was definitely the out pitch," he said. "I worked on spin and then it goes back to the stretches and mobility. I got more break on that cutter and an extra couple of inches helps when it comes to these big games."
While Pullen changed his batting order several times during the season, McGuire was entrenched in the cleanup spot. He delivered on multiple occasions and came within a spectacular diving catch of putting the Colonels on the scoreboard in the bottom of the sixth against Hanover.
"As a hitter, he was pretty clutch when we needed it," Pullen said. "When we needed a big hit, he did it. He was consistent throughout the year. He always came up big in situations and it worked out well for us. He hit No. 4 all year long. He handles the pressure of the No. 4 spot very well. He doesn't let it get to him."
McGuire also was a standout defender at third base and made several spectacular plays that had people in the press box still buzzing about them days later.
"I put just as much effort in to playing third as I do in anything else," McGuire said. "I do feel like my defense at third was a little overlooked because of my pitching this year. I take great pride in my defense, making sure every ball that's hit toward my area I field and get the out. It's a team sport and you have to take your role in doing everything you can to get every out. There were a couple of plays this year that were flashing the leather, so to speak. Those definitely felt pretty good."
McGuire's versatility is like one of the reasons that current Division III national champion Lynchburg recruited him.
"They saw me in September or October of last year at a baseball camp," McGuire said. "I came down and hit very well, had a couple of nice plays in the field and pitched very, very well and they fell in love with me."
After the camp, the Hornets immediately set up a campus visit and McGuire was hooked.
"I'm very excited. I'm pumped," said McGuire, who followed Lynchburg's run to the title while the Colonels were battling for one of their own. "I'll be held to high expectations even in college. I was held to high expectations in high school and it carries right over to college. I'm very excited to get to work and to get better in every aspect of the game."
McGuire says he hopes to do some of the same things for Lynchburg that he did for the Colonels this spring.
"Honestly, I will play whatever they need me to, but as of right now I would love the opportunity to go two-way there and have them use me to the best of my ability," he said. "I do plan on pitching and I do plan on being a position player. It's wherever they need me."
Pullen expects McGuire to succeed at the next level.
"I think the future is very bright for him," Pullen said. "I think Lynchburg has got a good guy coming whether it be on the mound or as a two-way player. I'm not sure exactly what their plan is for him, but … they are getting a competitor and getting a guy who has multiple pitches who can control and locate them and he's not going to back down from hitters. He believes and trusts in his stuff and he's going to give them all he's got every time out."
McGuire, who began playing the sport at age seven, says he's especially grateful to his uncle Brian McGuire, a longtime trainer with the University of Virginia baseball team. Brian was there when the Cavaliers won the NCAA title in 2015 and traveled with them this season to the College World Series.
"He knows all about baseball and has taught me everything I know about baseball as well as my parents," McGuire said. "From the get-go, I've always had that passion for baseball. It still has not changed."
McGuire also credits the Colonels' coaching staff.
"One of the big helps was definitely my coaching," he said. "All of my coaches at every single practice were great role models for me. They really showed me what a college practice was like. Every practice we had all four years I was in high school felt like a college practice and it really helped."
This summer McGuire is playing for the Broadway Bruins in the Rockingham County Baseball League as well as helping youngsters learn the game at a summer camp.
Never one to play video games, McGuire also enjoys simple things like puzzles, fishing, yard work and walking his dog away from the sport that consumes him.
He will miss the brotherhood that he said was special at James Wood and one of his favorite memories was raising the banner for the state runner-up finish in Shirley Gymnasium.
McGuire, who will major in biomedical sciences with an eye on becoming a physician's assistant, says he will appreciate any time he gets playing the sport he loves.
"Honestly, I just live every day like it's the last time I can play," he said. "You never know when this game can end for you, so you take advantage of every day that you can. This sport is very, very meaningful to me. I would hate to go out the way I didn't plan on it. If I can go out on my terms, that's what I want to do."
And he'll be ready to handle the pressure when it comes.
"He wants to be the guy whether it's on the mound at the plate or in the field," Pullen said. "He wants to rise up to the situation and make the play."
— Contact Walt Moody at
This email address is being protected from spambots. You need JavaScript enabled to view it.
Follow on Twitter @WinStarSports1