Baseball Coach of Year: James Wood's Adrian Pullen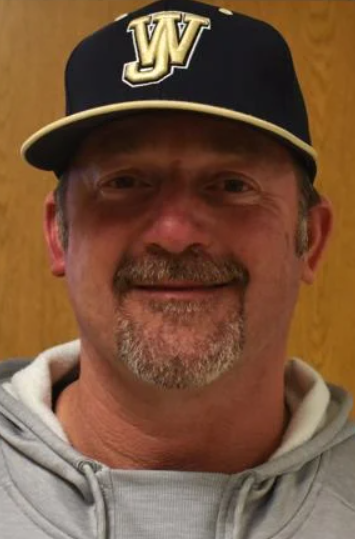 For the second consecutive season, James Wood's Adrian Pullen is The Winchester Star's Baseball Coach of the Year.
One season after leading the Colonels to the Class 4 title game, Pullen took them back to the state semifinals. James Wood lost to defending state champion Hanover 2-0 in that semifinal contest.
Along the way, the Colonels (19-5) went unbeaten during regular-season play (12-0) in capturing the Class 4 Northwestern District title.
Pullen guided a squad headed by Region 4C and Northwestern District Player of the Year Colin McGuire and Nick Bell, who were both First Team All-State pitching selections.
The Colonels scored big wins over Dulles District regular-season champion Heritage (2-1 in eight innings the Region 4C semifinals) and Amherst (3-2 in the state quarterfinals).
Q: What were your expectations this season and were they met?
Pullen: Our expectation every season is to win the last game. We came up one day short of that. We've kind of set the bar kind of high for what we expect as a team and a program. You're not always going to get there, but it's how you go about things and the things that we do on a daily basis that helps us to be the best that we can be.
Q: You had to do things a little differently this year as opposed to last year. How were you still able to succeed?
Pullen: It was a very different team than last year. We weren't going to beat the ball around the ballpark. Last year, we relied a whole lot more on our offense with hitting extra base hits and running the bases. This year were going to have to get guys on and do the little things like small ball and execute. That's what we worked on from Day 1 last fall until the very end — executing the little things it takes to win baseball games.
Q: Were there any adjustments you made during the season that you though paid off?
Pullen: The adjustments that we made throughout were changing the lineup, whether it be offensively or defensively depending on that day and who we felt that gave us the best chance to win in what spot and what we thought our plan of attack was going to be against certain opponents. At lot of times it worked out. Sometimes it didn't.
Q: Were there any key games that you thought were big during the season?
Pullen: There were a couple. The Riverside game early in the season [a 2-1 victory] where we beat them at their place. Garrett McAlexander was on the mound and he frustrated them all game. We scored early and we held on late. Daniel Franceschi comes in with [no outs] and the bases loaded [in the sixth] and got a ground ball for a double play and he strikes out the last guy. Then Nick came in and got the save. That gave us the confidence that we could be good and that we really can coach. It's not just filling us full of smoke. We can be good and we can do the things he's telling us he believes we can do. That gave us a lot of confidence throughout the beginning of the season. Then, I'd have to say late in the season our win over Amherst, coming out against a Division I South Carolina commit who is throwing 88-92 mph and putting up a run early on him. Ultimately winning that game as well, putting up just enough offensively to win when most people doubted our ability to do so.
Q: Were there any players who surprised you this year?
Pullen: There were no real surprises because I have high expectations and belief in our players. There were players that really stepped up and filled shoes from holes that we had. Eli Miller making the transfer [from second base] to shortstop. Michael Jackson stepped up and did great things offensively along with his defense in the outfield. We knew we had good pitching and good defense, but I'm not sure we thought we probably going to end up with a team ERA of 1.30 and two guys with an ERA [at or under] 1.00. we knew going in we were going to have to win a lot of close games and that's how the season went. … I was very happy with the way the kids played and they weren't selfish. They played together as a team and that's what won for us.
Q: Was there a game that was a biggest disappointment?
Pullen: Probably if you had to finger on it, there were two games I felt disappointed with. The Musselman (W.Va.) game early at their place (a 7-2 loss). And, the Sherando game in the district tournament (a 4-3 semifinal loss). I think that was a little bit of a letdown, but it was also an eye-opener that, 'Hey, we have got to bring our game every day and we have to be able to execute if we want to get far.' That was a tough one to take, but hats off to Sherando. Coach Martin had his team ready to play and I didn't."
Q: You lose some great players, including two standout pitchers. What are you thoughts about next season's team?
Pullen: Every year you have big losses. It's about the guys who are there and their ability to fill those holes. In my brief stint leading the program, we've been able to fill those holes. We've got ample guys on the pitching staff who have been around who don't have as many innings obviously, but I believe they are going to step up. They will fill the shoes of Nick and Colin. Offensively, we will have a couple of holes to fill and defensively, too. We do every year. I fully expect the group that we have to work hard throughout the offseason and be prepared to do it again come springtime.
— Compiled by Walt Moody