Baseball Player of the Year: James Wood's Nick Bell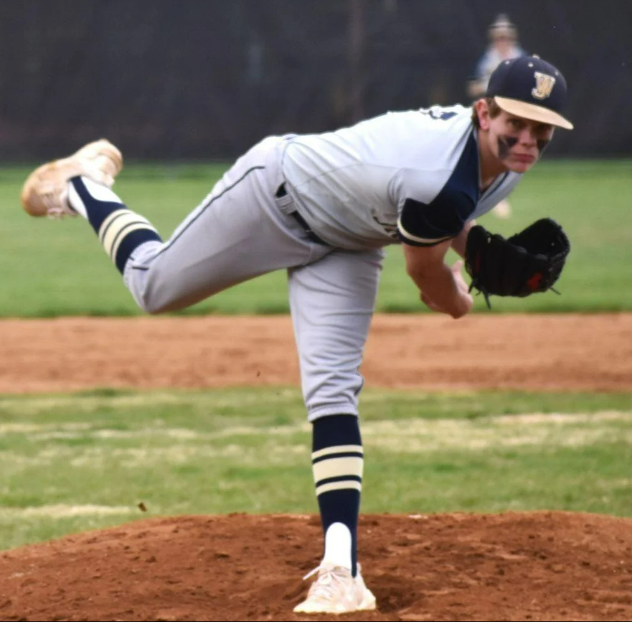 James Wood High School pitcher Nick Bell felt pretty confident entering this baseball season.
While he was 3-3 as a sophomore, Bell threw 14.2 scoreless innings in the postseason as the Colonels advanced to the regional title game before losing to eventual state champion Broad Run.
But not even a confident Bell could imagine what would unfold this spring. The right-hander would shatter longstanding school records for wins and strikeouts in as season as he helped lead James Wood all the way to the Class 4 championship game.
Bell's outstanding season on the mound earned him several accolades, including The Winchester Star's Baseball Player of the Year honor.
Bell put together an outstanding 11-3 mark which accounted for exactly half of the Colonels' 22 wins. His win total eclipsed the previous school mark of eight, held by two players. His 123 strikeouts in 82.1 innings shattered the previous school record of 92 and he walked just 16 batters in the process. In 10 of his victories, both as a starter and in relief, Bell did not allow more than one run and he finished the season with a sparkling 1.36 ERA.
"Nick had a wonderful season," James Wood coach Adrian Pullen said. "Obviously playing varsity as a sophomore gave him the experience and the confidence necessary to set him up for a great junior season."
Bell agreed.
"From last year, I got a lot of experience at the end pitching in the playoffs," Bell said. "I felt like that carried over to this year. I had a ton of confidence coming into this year. … I have a lot of confidence when I get the ball, but I feel like the strides I made in the winter paid off."
Bell has an arsenal of four pitches and could throw any of them for strikes. He said his fastball tops out in the mid 80's, but its his offspeed pitches that baffled hitters. His hard-breaking slider, curve and changeup were the pitches that most often got him a strikeout.
"Usually, it's my pitch sequence and locating," Bell said of his success. "If I can get strike one, that helps because I can throw offspeed and mix it up a lot. I don't like to go with the same thing all of the time.
"With my offspeed pitches, I can locate them as well as my fastball," he added. "I have as much confidence to throw those pitches in any count than some other pitchers do who more rely on their fastball."
Pullen said Bell's secret to success is a combination of talent and knowledge.
"He's really learned how to get people out," Pullen said. "That's when you become a pitcher and not just a thrower. He doesn't have the [velocity] that others do, but what he has is movement and location. That's how he gets people out. He doesn't rely on just blowing it by somebody. He relies on picking a hitter apart by looking and finding his holes and how we're going to attack that guy in that at-bat and situation."
Pullen said that when Bell has everything working it can be a nightmare for hitters. But, those occasions don't happen every trip to the mound. It's grinding when you don't have your best stuff that can keep your team in the game.
"He is a competitor," Pullen said. "He realizes when he doesn't have his best or when he makes a mistake that it just makes him buckle down and go that much harder. Some kids will back down from that and stop believing in themselves and he doesn't do that. He always has the belief that he can get the next out."
Bell says it helps having his father Steve, a Colonels' assistant, in the dugout to help him through the rough patches.
"I like it because he and I can talk about stuff privately," Bell said. "We've been working with each other all of my life. He knows exactly what is working and what is not working all throughout the game. Usually after every inning or so, we'll meet before I go out the next inning. We'll talk about what we're going to do the next inning and what I need to fix mechanically and everything."
Whatever the topic of the discussions, they seemed to work as Bell came up big in several key regular-season and postseason games.
Strangely, it was maybe Bell's best effort in which he did not get a win or a decision. Going to-to-toe with Millbrook's Jerrod Jenkins, who is headed to Division I Dallas Baptist, Bell threw 6.2 perfect innings. Hitting his pitch limit, he left the contest after 8.1 innings having allowed two hits, no walks and striking out 13. The Pioneers eventually won 1-0 in 11 innings,
"I will never forget that game," Bell said. "Everyone played so well and it was such a tight game. It was crazy."
Another part of Bell's success is that he's a quick worker. Many of James Wood's games this season finished well under two hours when he was on the mound.
"My pace is usually pretty quick," Bell said. "I don't like to wait very long on the mound. I usually get the ball back, get the sign and go."
"We try to instill that in all of our pitchers to work fast and work strong because you want to command the game," Pullen said. "When you work at that pace, you're showing the other team that you have confidence in what you're doing and that you have control."
Bell's three losses came against quality opponents. He lost in relief against Millbrook on three unearned runs, gave up just one earned run in five innings against Region 5D champion Riverside and struggled in an 11-0 loss to Hanover (a lineup that had multiple Division I commits) in the state title game.
Bell says he's learned from the losses that's what makes the game such a challenge.
"I just love the game," he said. "It's a very mental game. I feel like one game doesn't define you. ... It's a game of failure, but you can always pick yourself back up and be successful."
Nick is not the only pitcher in the Bell family. He older brother Jacob was a successful pitcher at James Wood and has moved on to Shenandoah University. In an emergency start against Catholic in the NCAA Division III Tournament this season, Jacob, a junior relief pitcher, allowed three runs over 7.1 innings in a must-win game that the Hornets took 6-3.
Nick said the sibling rivalry between the two runs deep.
"We always go at it and try to see who can do better, usually every night," said Nick, who now is playing with Jacob on the Broadway Bruins in the Rockingham County Baseball League. "He and I usually throw the football a lot throughout the summer. We throw and throw and throw together. We're always competing.
"I wanted to beat everything that he had when he was at James Wood in pitching."
He's not only beaten his brother, but pushed several other Colonels greats to the side. His efforts earned him First Team All-State, All-Region 4C and All-Class 4 Northwestern District honors.
"I had a lot of innings, so it was awesome to have that many opportunities to get that many wins, but I also had my team behind me, too, in all of those games and wins we got," Bell said. "John Copenhaver, my catcher, he did amazing all year long. We worked all last winter and all of the hard work seemed to pay off."
Bell, who likes to fish for bass and hunt deer when he's away from the sport, said he will be hard at work trying to get better for next spring.
"I definitely need to get my velocity a little higher so that my fastball can become more effective," he said. "That also would make my offspeed pitches more effective because of the speed differential."
And he is anxious to see what 2023 has in store for the Colonels.
"I can't wait," said Bell, who also drove in 18 runs, including three in a 6-5 win over Monacan in the state semifinals. "After this year, we have so much to build off of. Coach Pullen keeps us working and sets the bar higher every year. There's a very positive culture around James Wood and it's awesome."
Pullen is looking forward to more of the same from Bell.
"It makes a coach's job easy to have a guy that you know you can trust every time out," he said. "Obviously, he's not always going to be successful, but you trust him every time he goes out there."
And after his senior season, Bell is hoping to join his brother as a collegiate baseball player. He's getting a few feelers right now from some schools.
"I want to definitely play in college," Bell said. "That's definitely a dream of mine. That's pretty much how it is right now. I want to take it step-by-step."
Pullen says he has no doubt that dream will come true.
"He's going to play at the next level somewhere," Pullen said. "We're going to try to find the best fit for him. Obviously, he has folks talking to him now. It will be up to Nick. He'll have choices and be able to decide what is the best fit for him — not just baseball, but in all aspects of the next step."
— Contact Walt Moody at
This email address is being protected from spambots. You need JavaScript enabled to view it.
Follow on Twitter @WinStarSports1