Baseball Coach of the Year: James Wood's Adrian Pullen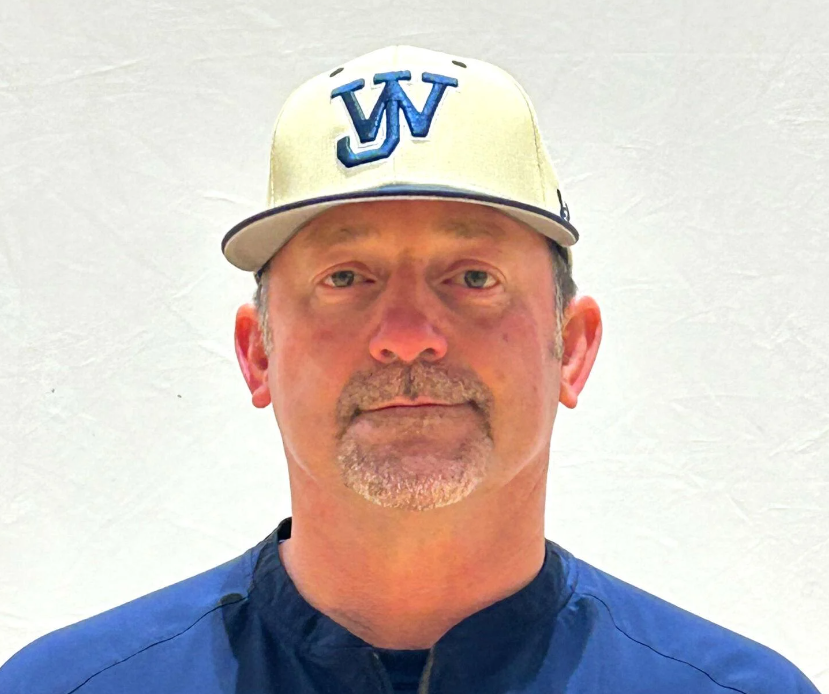 James Wood's Adrian Pullen is the Winchester Star's Baseball Coach of the Year in his second full season as head coach of the Colonels.
After his squad started 9-4, Pullen led James Wood to 13 wins in 14 games to reach the Class 4 title game, the program's first state championship game since 1985. Included in that stretch run was a 7-5 Region 4C title win against Millbrook, which had previously beaten the Colonels twice by a run in the regular season and by two runs in the Northwestern District Tournament final.
The Colonels, who set a school mark for victories in going 22-6, would knock off Salem 5-1 in the state quarterfinals, rally from two runs down in the seventh inning for a dramatic win 6-5 over Monacan in the semifinals before falling 11-0 against Hanover, which did not lose to a team from Virginia all season, in the title game.
Pullen would lead a team that featured Nick Bell (First Team All-State, Winchester Star Player of the Year), his son Bodie Pullen (Second Team All-State, Region 4C Co-Player of the Year and Northwestern District Player of the Year) and Brody Bower (Second Team All-State).
Q: What were your expectations for the season and were they met?
Pullen: We had a goal of winning the state championship. That's No. 1. Last year we made it to the region final and lost, but that set the stage for what our expectations were this year. We believed we could do that and more if we continued to work and do the things necessary to be that type of ballclub. Our kids bought into the fact that they liked success and wanted more success and they worked hard for it.
Q: Were there any adjustments during the season that you though paid off?
Pullen: Adjustment-wise, I took a little more of a stance of putting pressure on teams. We started doing more bunting, hit-and-run and forcing the action on other teams. That really started to pay off as we started to execute those things. But if you don't get anybody on, it's hard to play like that. Just to say, 'We're going to bunt and hit-and-run,' doesn't mean that's going to work. You have to have the kids executing in all phases offensively. Our defense came around as our season wore on. The kids really settled in and worked hard. We just got better every day.
Q: Was there a game that you thought defined the season?
Pullen: That's a tough question. I will go with probably the easy answer and say winning the regional championship and getting a state game at home by beating Millbrook. To that point, we had played three very close games where the outcome could have went either way. When we won that region championship, that surely gave us the confidence that we could achieve our goal and that we were doing what was necessary to do that. That gave them full belief that we could win against anybody.
Q: Were there any players who surprised you this season?
Pullen: I wouldn't say that anybody surprised me because I've seen most of our kids play for several years, some of them more than others. I have seen what they are capable of on a daily basis. It doesn't always show up, but you can read what a kid is capable of from their actions and how they handle different situations. It comes down to believing in themselves. It doesn't matter how much I believe in them. If the kids don't believe in themselves, they are not going to perform to what you believe they are capable of doing.
Q: What was your biggest disappointment this season?
Pullen: To be honest with you, I don't know that I have a disappointment from the season. There are things that you can look at and maybe you're disappointed, but in the grand scheme of things where we got to and playing for the state title and to play against the team the caliber of Hanover [was incredible]. For our kids to believe in themselves and compete in that game even though we lost and lost 11-0, the score was obviously not indicative of how the game was played and we competed. As a coach all I ever ask for my kids to do is compete — day-in and day-out — because you're not always going to win and you're not always going to lose. But if you compete, you will be a winner in life. No matter what you're doing, if you compete to the best of your ability you well be a success.
Q: With the loss of some key seniors, what are your expectations for next season?
Pullen: My expectations remain the same for next year. We want to compete for a state title. That's our goal. It's easy to say that's what you're going to do, but it is harder to actually go out and compete and work to do the things that it takes to get there. But, we have a great group of kids who now have had two groups in front of them to learn from and see what it takes to get to the end game. Your philosophy is always to win your last game. If you can do that, then you are a champion.
— Compiled by Walt Moody