Bell, Brookshire head five All-State baseball picks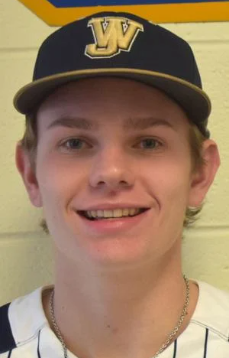 James Wood junior Nick Bell and Millbrook junior Nate Brookshire were selected to the First Team and three more area players were named to the Second Team as the Virginia High School League announced its Class 4 All-State baseball teams on Thursday.
Bell went 11-3 with a 1.35 ERA for the Colonels (22-6), who advanced to the state championship game for the first time since 1985. In 82.1 innings, Bell struck out 123 batters and walked just 16.
Brookshire, a third baseman, hit a team-leading .427 for the Pioneers (21-4), who advanced to the state quarterfinals. Brookshire drove in 25 runs, while scoring 23 and stealing 21 bases.
James Wood seniors Bodie Pullen and Brody Bower and Millbrook senior Jerrod Jenkins made the Second Team.
Pullen, a shortstop., hit .341, while scoring 32 runs and stealing a school-record 35 bases. Bower, an outfielder, hit .378, while scoring 27 runs, driving in a school-record 24 and stealing 14 bases. Jenkins had a 6-1 record with a 1.52 ERA. In 64.1 innings, he struck out 88 batters and walked 39.
Hanover senior pitcher Seth Keller was selected Player of the Year and the Hawks' Tyler Kane was named Coach of the Year after leading the team to a 23-2 record and an 11-0 win over James Wood in the title game.