James Wood falls to Hanover in Class 4 baseball finals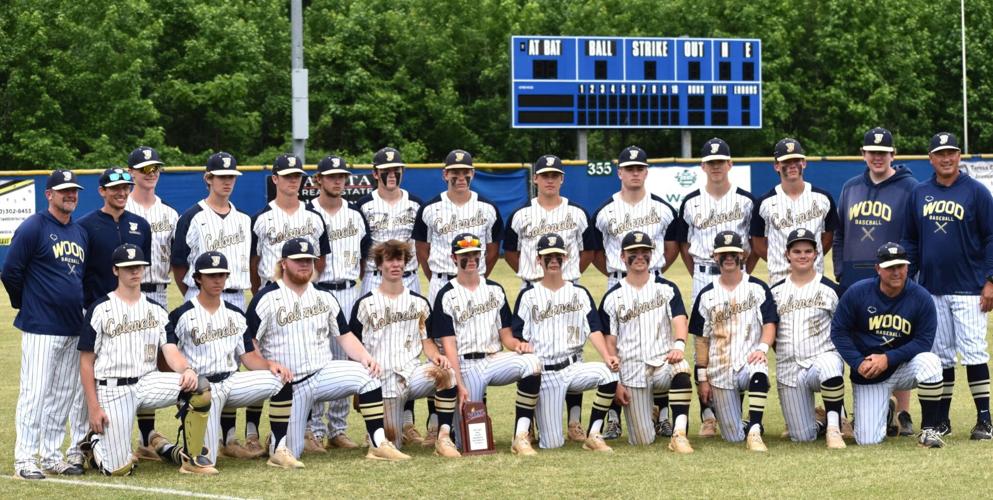 FREDERICKSBURG — The James Wood baseball team found itself in the proverbial classroom with the smart kid.
When any question was asked in Saturday's Class 4 championship game, Hanover had the answer.
Three Hawks pitchers held the Colonels to one hit and the Hanover offense put together two big early innings to take control in an 11-0 romp at Riverbend High School.
Old Dominion recruit Seth Keller had three hits, including a two-run blast to dead center, and drove in four runs for Hanover (23-2), which finished its season with 18 consecutive wins and outscored its six postseason opponents 57-3 with five shutouts.
"The magic has to stop at some point," said James Wood coach Adrian Pullen after the Colonels accepted the runner-up trophy to match the 1985 team's run that made the state finals. "Hat's off to that group because that's obviously the best team we've seen all year. The stable of arms that they have, the hitters that they have, they are a great high school team."
The frustrating thing for the Colonels on Saturday was that they had numerous chances to score against the Hawks. James Wood had runners reach scoring position in six of the seven innings and had runners advance as far as third base three times.
"That was the biggest thing for us today — we couldn't get that hit at that one time," said Jacob Roy, who broke up the no-hitter with a single in the sixth.
"As I told the kids, every time we started to get a little momentum, they stopped it," Adrian Pullen said. "It was inning after inning after inning. We had guys at second and third and we just couldn't get that hit. We've been doing that and today we didn't. It's the mark of a champion to stop momentum when it starts because if you don't you're opening yourself up to get beat.
"We did all we could to get the momentum and to keep it going and they stopped us. Again, hat's off to them. That's a great program and a great bunch of kids."
Hanover also had the answer to facing James Wood ace Nick Bell, who entered the title game with an 11-2 record and a 0.71 ERA.
But Bell had been hit on the right index finger (on his pitching hand) during an at-bat in Tuesday's quarterfinal game. Bell played at third and first base in Friday's 6-5 win over Monacan.
"Nick and I talked [Friday] night after we got back and he wanted the baseball," Adrian Pullen said. "He wasn't going to let a sore finger keep him off the mound. As a coach, there was no way I was going to take the ball away from my ace."
Bell worked out of a jam in the top of the first inning as the Hawks had a runner at third with no outs. He struck out two hitters and got a groundout to end the inning.
He wasn't as fortunate in the second. A walk, a hit batter and a bunt single loaded the bases with no outs and Chase Husted lined a two-run double to left to open the scoring. After a run scored on Wade Shepherd's sacrifice fly and an out, Keller crushed a bomb well over the 380 sign in center to make it 5-0 as he danced before waltzing in to touch the plate.
The Hawks chased Bell after the first two batters were out in the fourth. Hanover had four hits in a three-run outburst, including an RBI double to left from Brett Alvis and an RBI single by Cole Elrod.
Bell said the finger was "good" and gave credit to the Hawks' batters. "I felt like I didn't throw bad, but I felt like I didn't sequence as good as I have been before," he said. "I felt like I didn't throw bad at all. I was missing location a little bit."
"He wanted it, he got it and he battled," Adrian Pullen said of his junior right-hander. "That's just a good offensive team. They put the ball where we weren't when we they hit it."
Daniel Franceschi relieved and had the Hawks off-balance for awhile, though they added a run in the sixth and two more in the seventh on Keller's two-run single.
Even down 11-0, the Colonels scrapped until their last out. They put two runners on in the seventh before Levi Huesman got a strikeout for the final out as the Hawks (last year's state runner-up to the same Broad Run team that eliminated the Colonels in the Region 4C final) dog-piled in the infield.
Hanover starter Cannon Peebles, a North Carolina State recruit, did not allow a hit through 3.2 innings before leaving with an apparent arm injury. Marcus Van Alstine relieved and pitched 2.1 innings of scoreless relief, allowing Roy's sharp single to right.
"I'm proud of them for the way they fought down 11 runs," Pullen said of his squad. "We fought all of the way to the end and we were able to get all of the seniors on the field to give them that opportunity."
While obviously disappointed at the outcome, the James Wood players could appreciate achieving something that had not been done since 1985.
"What we were able to accomplish is amazing," Roy said. "Only one other team in school history has been able to do it, so it's something we really need to hold our heads high about."
The Colonels were 4-3 at one point, but won 13 of their last 15 games and finished 22-6, a school record for wins.
"From the start, it was our main goal to play in the state championship game," Bodie Pullen said. "It wasn't the result we wanted, but I knew from the start we could get here. We had the tough start, but I knew with the way we fight every game we would give ourselves a chance to make a run."
Bodie Pullen said he and his father had a dream that became a reality.
"It was all I could ask for," Bodie Pullen said. "We have been talking about it all of our lives."
"We always knew that if we worked hard and did the things that were necessary that we could one day hope to be here," said Adrian Pullen, a former Colonels standout player. "As I've said before, all I've heard since playing, '1985, state championship game.' It's always been my goal to get here. Now my goal is to get back and win it."
Adrian Pullen loses three primary starters from this season, shortstop Bodie Pullen, right fielder Brody Bower and center fielder Roy, who each will play collegiate baseball. Ryan Clupp saw action as a role player during the season and Jaden Ashby, a starting center fielder as a junior, was injured and unable to play before the final two games.
"We are going to miss them a lot," Bell said of the seniors. "I've been playing with them since I was young."
Roy said Saturday's result didn't tarnish a season in which the Colonels captured the Region 4C title.
"It means the absolute world to us," he said. "Since our freshman year, we've been working toward this. We just weren't able to finish the last game."
Five position starters, along with the top three primary pitchers in Bell, Colin McGuire and Franceschi, all return and now have participated in the ultimate pressure cooker.
"It was good," Bell said of the state tournament experience. "I think it's going to better me to be honest. With the environment and facing this good of a team, I know what it's like now and I can work off of that. It gives me more things to work on throughout the summer and hopefully I can get my [velocity] up a little higher."
"The kids that are coming back have learned what it takes to get here," Adrian Pullen said. "It's pretty special right now. There's only one team that got farther than us."
And losing to a perennial power that had all of the answers Saturday didn't stop Adrian Pullen from praising his squad.
"It's just been a special season," he said. "This team has jelled, come together and worked hard together. You have role players. Every good team has to have role players. … They didn't complain. The didn't give in. They weren't cancerous. They worked for each other and that's what got us here today. It's a great group. They don't come along very often."
— Contact Walt Moody
at This email address is being protected from spambots. You need JavaScript enabled to view it.
Follow on Twitter @WinStarSports1