James Wood rallies to reach Class 4 baseball title game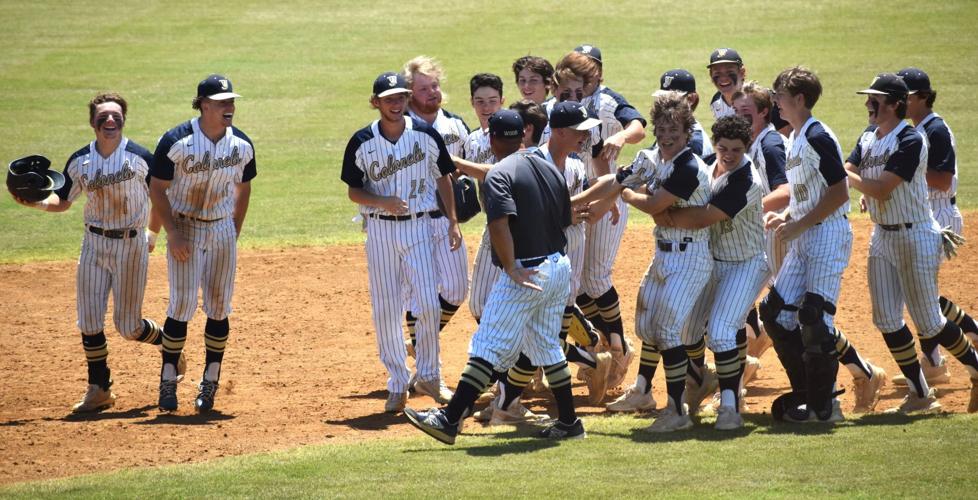 FREDERICKSBURG — If you are around the James Wood baseball team, you'll probably hear the word "believe" at least a few dozen times.
It's in reference to how the Colonels have faith in themselves, their teammates and their coaches.
But when you're facing a two-run deficit and down to your last two outs and no one on base in the state semifinals, the belief system is facing some stress.
But James Wood strung together four straight hits, including a game-winning, two-run single from John Copenhaver, to stun Monacan 6-5 on Friday at Riverbends High School.
These Colonels (22-5) joined the school's 1985 squad in advancing to a title game. James Wood will face perennial power Hanover, a 13-3 winner over Jefferson Forest in six innings, in Saturday's Class 4 championship at 11 a.m.
"That's why that happens," James Wood coach Adrian Pullen said of his team's belief in pulling out the win. "If a guy doesn't succeed another guy picks it up. We believe in each other and we don't try to do too much. All we want to do is win."
"We don't ever give up," Copenhaver agreed.
Winning looked pretty bleak on Friday. Monacan (13-13) scored a pair of runs in the top of the seventh when pinch-hitter Jack Sams drove a two-out pitch from reliever Daniel Franchesci into center field to make it 5-3. The damage could have been worse if not for center fielder Jacob Roy throwing out a runner at third on the play.
It also was Roy who got things going in the bottom of the seventh. With one out, Roy lined a single to right off of Turner Johnson, who had entered in the third inning. Eli Miller followed with a single up the middle to put runners on first and second.
That brought up Nick Bell, who had previously plated two runs. On the second pitch to Bell, Roy and Miller pulled off a double-steal to put both runners in scoring position.
On a 2-2 count, Bell ripped a one-hopper into left that drove in Roy, but was hit too hard for Miller to score.
"Earlier in the game, he threw me a slider and I struck out looking," Bell said. "That last at-bat it was that same pitch and I hit it hard."
Speedy Michael Jackson replaced Bell on the bases and promptly swiped second.
The set the stage for Copenhaver, the No. 8 batter in the lineup who was hitless with a walk in three previous plate appearances. With a 2-2 count, Copenhaver grounded a single past the drawn-in infield and into center field. Miller tied the score and Jackson raced around to win it, sliding in as the late throw from the outfield sailed over catcher Christian Estes' head.
"I was just thinking right-center," said Copenhaver, who was mobbed by his teammates who came charging out of the dugout. "It's what we've learned all year, going right-center with it. It was nothing else really. It was put the ball in play basically with two strikes. … It was awesome. It was a great feeling."
"He's a great young kid that really knows how to play the game," Pullen said of Copenhaver, a sophomore catcher. "He doesn't try to do too much. He rises up to the moment."
Roy said the Colonels' rally also delivered on a promise.
"It was just one of those things where you have to keep believing in each other," Roy said. "I told Franceschi when we came in here that we would pick him up and that's what we did."
"All year, we have not given up until the final out," Bell said. "We just keep battling and battling until we can't battle anymore."
The contest got off a little shaky for Colonels starter Colin McGuire. Jaden Greenidge had an RBI single and Turner Johnson added a long sacrifice fly to give Monacan a 2-0 lead.
James Wood got one back in the bottom of the frame as Roy's two-out single plated Jared Neal, who had singled and moved up on McGuire's two-out single.
The Colonels took the lead in the bottom of the third. With two outs, Roy doubled to left-center and was the last batter Monacan starter Reid Ivy faced.
Miller greeted Johnson with a single and stole second to put two runners in scoring position for Bell, who admittedly has struggled at the plate this season. Bell grounded a 3-1 pitch up the middle that glanced off of shortstop Jaden Greenidge's glove into center field to drive in both runs.
"I've been trying to battle at the plate this year," Bell said. "I finally came through for my team today in a big spot."
McGuire held onto that lead until the fifth. Jalen Greenidge, who had three hits and scored three times, singled to lead off the inning, moved to second on one of Jake Williams' three sacrifice bunts, and scored on Johnson's RBI single to tie it at 3-3.
McGuire got the Chiefs in order in the sixth to end a 108-pitch effort. McGuire allowed seven hits with two walks and six strikeouts. The Colonels did not commit an error for the second consecutive state playoff game.
"Colin, hat's off to him today," Pullen said. "He gutted it out today. He struggled early and had two very stressful innings and got his pitch count up, but he settled in a little bit and was able to get through innings."
Led by Roy's three, the Colonels pounded out 13 hits. McGuire, Miller and Bell added two each. Prior to the final inning, James Wood left nine runners on base.
"Today we didn't execute," Adrian Pullen said. "We didn't execute the small ball, the little things that we have been executing. We didn't get it done today, but in the end we gave ourselves a chance because of the mound and defense. Pitching and defense wins ballgames."
The Colonels also got an emotional lift from Jaden Ashby, last year's starting center fielder who has missed the entire season. Ashby, who suffered a knee injury in football season, was used as a courtesy runner twice.
"It's awesome for him," Pullen said. "He just got a release this week. He's a good kid and a competitor."
The Chiefs, who were the 10th seed in the Region 4B tournament finished with 10 hits and impressed Pullen. "That's a great team," he said. "That's a scrappy baseball team that does things the right way. … That's why they're here. We just happened to be a little bit better today."
In order to accomplish what the 1985 team couldn't, the Colonels are going to have to beat the team that knocked off Monacan in the Region 4B title game. Hanover (22-2) hasn't lost to a team in the state this season, falling twice to California teams in tournament in April. The Hawks have won 17 straight, while the Colonels have won 13 of their last 14.
Pullen hopes to have Bell (11-2, 0.71 ERA) available in the title game. Bell was struck on his right index finger during an at-bat in Tuesday's quarterfinals. Though the finger was swollen, Bell did play Friday at third base and first base.
Roy, one of five seniors on the team, is excited to get the chance to play for a title.
"It means the world to me," he said. "This is what I dreamed of — and it's a whole lot better."
— Contact Walt Moody at
This email address is being protected from spambots. You need JavaScript enabled to view it.
Follow on Twitter @WinStarSports1