Athlete Spotlight: James Wood baseball player Jacob Roy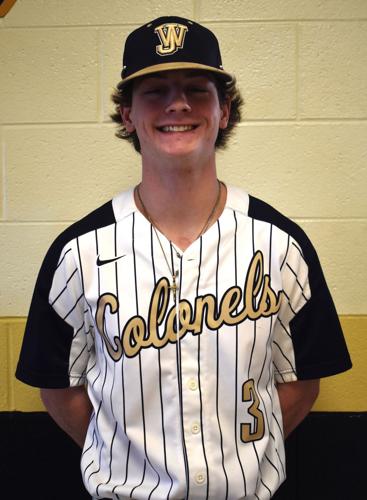 James Wood High School 18-year-old senior
Sport: Baseball. Position: Outfield
Parents: Charlie and Jennifer Roy
Hometown: Winchester
What do you love about baseball: I love being with my teammates and the bonds that you make because everyone becomes like your brother.
Most memorable moment in baseball: I'd either have to say playing in the Cal Ripken World Series or last year year walking off against Heritage (Roy scored the winning run as the Colonels captured the Region 4C semifinal game 3-2 in eight innings at R. Charles Hott Field).
Most embarrassing moment in baseball: It was probably that COVID year. We were playing in a travel tournament and I dropped a fly ball and then I overthrew second [base].
Most difficult moment in baseball: I would have to say it's the mental part of the game. Just all of it is kind of mental and the rest is physical. I think it's more of a mental game and that's very hard.
Three people you can have dinner with, dead or alive: I'd have to say my grandma and granddaddy Snapp because they were a big part of my family. Everyone talks about them and just how good they were and just how much of a family it was whenever they were around. Sunday dinners at their house, I would have loved to experience that; My third one was my pap [Ray] because I never was able to meet him. Everyone has always told me that he and I would get along so well and that I'm so much like him.
Biggest athletic influence: I'd have to say my dad because he's always pushed me no matter what it is.
Favorite teacher: I didn't have her as a teacher, but it's Miss [Gina] Walker just because she treated everyone with respect and she was always there if you needed her.
Favorite athlete: [NFL quarterback] Tyrod Taylor
Favorite sports team: Virginia Tech
Favorite movie: "Eight Seconds"
Favorite TV show: "Outer Banks"
Favorite song: "Outskirts of Heaven" by Warren Zeiders
Favorite food: Steak on Steak Nights with the team. The steaks are amazing.
Worst thing you've eaten: Tomatoes
Plans after high school: I'm going to a two-year college, Richard Bland at the College of William & Mary, to play baseball. Then I plan on transferring to a four-year college to finish up and play baseball somewhere else. My major is between criminal justice, agribusiness and sports management. I hope to get a job somewhere in the sports industry.
— Compiled by Walt Moody