Pullen has made impact in first season as James Wood baseball coach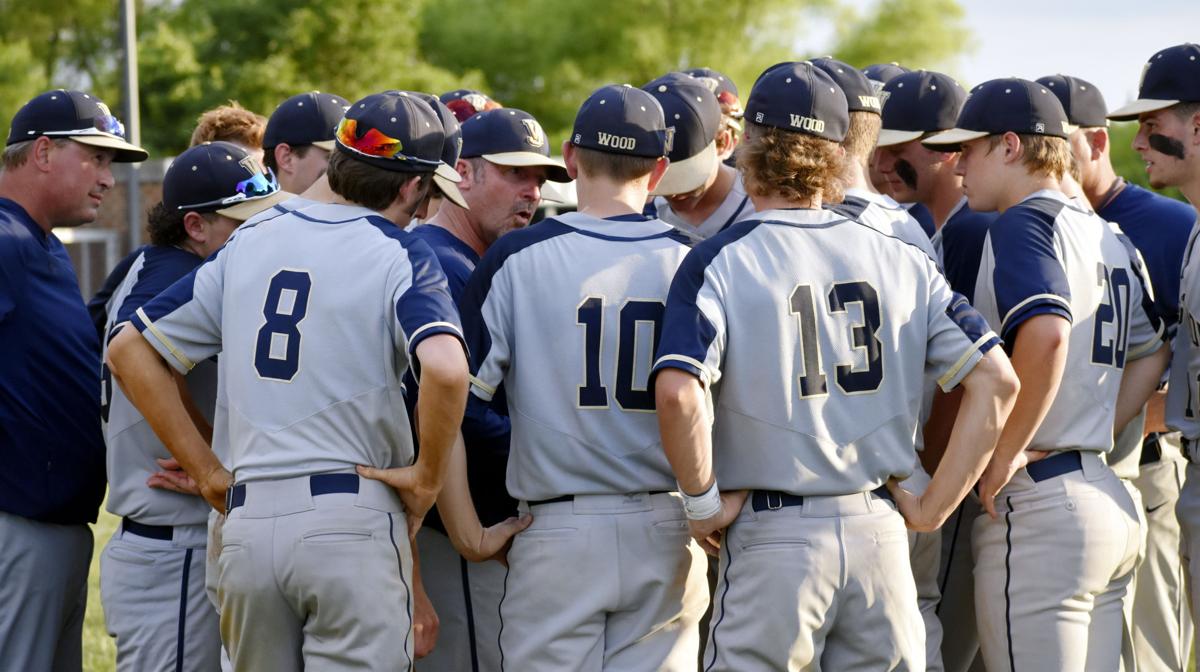 WINCHESTER — When Adrian Pullen took over the James Wood High School baseball program after the 2019 season, the longtime assistant and former Colonels star knew the kind of job he was facing.
He'd lead a program that was coming off a 7-14 campaign and one that had not truly contended for a district or conference title for more than a decade.
And thanks to the COVID-19 pandemic last spring, he'd have to wait a season longer to try to turn around James Wood's fortunes.
Not only did the Colonels develop into contenders this spring, they also became district champions. James Wood captured the district tournament title for the first time since 2007 with Tuesday's 9-4 victory over Millbrook. The Colonels (12-3) will participate in the regional playoffs for the first time since 2008 when they host the Dulles District runner-up on Monday at R. Charles Hott Field.
It's a remarkable turnaround for a program that had gone 33-51 overall and 18-29 in district play over the previous four seasons.
Pullen, the Winchester Star's Player of the Year as a James Wood senior in 1990, said his objective was modest to get the Colonels headed in the right direction.
"My main goal was attitude and just believe in themselves," he said Tuesday evening after receiving the district championship trophy. "It's hard to perform to your ability if you don't believe in yourself. Give them the positive reinforcement and just let them know that it's fine to make mistakes because you're going to make mistakes.
"This game is full of mistakes. How you handle the mistakes and adversity is what makes good teams above teams that aren't as good. You have to be able to handle defeat. Hitters have to be able to handle being defeated seven out of 10 times. You've got to be able to learn from your mistakes and move on."
The Colonels certainly have been resilient. After a tough 3-1 loss against Millbrook in the second game of the season, the Colonels ripped off four straight wins, including an 8-1 triumph against West Virginia power Jefferson and a 17-4 romp against Sherando.
Following a 6-0 loss to Jefferson, James Wood won six straight before falling 3-2 at Kettle Run. The Colonels haven't lost since.
Pullen said about halfway through the season he could sense that his players truly believed they could be contenders.
"It can always be tough to see over the hump if you don't have success," James Wood senior Luke Gross said. "But if you have the right guys around you and have the right mentality no matter what's happening, you can always get it done. Sure it helps to have great talent, but if you work hard in the weight room and on the field there's nothing you can't achieve."
And Pullen, whose son Bodie is a standout on the team, has made a difference in that mentality.
"Yes, 100 percent. He's such a good coach," said sophomore Nick Bell, whose father Steve is an assistant coach. "He's always doing stuff for us and making good decisions during the game. He's a really good coach."
"He's changed this program, him and the rest of the coaches, by showing affection toward the kids," senior Jayden Nixon said. "It's being able to do breakfast with the seniors on Saturday mornings and steak nights once a week or more. It's just something we've never had before. We know the coaches have our backs if we have theirs."
Nixon, who along with teammate Kaden Spaid will play college baseball at Division II Davis & Elkins, says the Colonels have always had the talent, but have failed to produce.
Surprisingly a washed out high school season last spring may have contributed to turn things around. Pullen, who founded the Blue Ridge Baseball Association in 2016, had many of his players, as well as others from area teams, competing last summer in that league.
"It was more games than a high school season so we could become more closer with that," Nixon said. "This is the closest team that I've ever been on for sure."
"It was a great opportunity for the team to build some chemistry," Gross added. "It definitely helped us."
Millbrook coach Brian Burke says he's certainly not surprised at James Wood's turnaround because he and Pullen have been colleagues over the summers.
"He's brought energy," Burke said. "He's such a well-rounded coach. He knows so much about the game. He and I have worked together through Blue Ridge Baseball. We've learned a lot from each other. Many of those [James Wood] kids played on my team and we combined our teams together last summer with some of the younger guys. This time last summer, we had Millbrook, James Wood and a couple of Sherando guys."
But Burke believes Pullen's example breeds success.
"I have so much respect for Adrian and the time he puts into his program, not only as a coach but he's out there doing field maintenance," Burke said. "It's a breath of fresh air to have someone who is that enthusiastic about the game and the area. He's done so much for not just his James Wood kids, but for the Millbrook kids and Sherando kids to provide an opportunity to get better in this area.
"A lot of these kids have played together since they were 8," Burke added. "This should send a strong message to the state that Winchester is still on the map as far as baseball goes. It's a tribute to guys like him."
Part of James Wood's success this season is that Pullen has used his entire roster effectively. He's gotten production from all throughout his batting lineup. The Colonels are averaging nearly nine runs per game.
While his pitching staff has no flamethrowers, the Colonels have allowed just 2.5 runs per game. "We have five guys that I trust every night," Pullen said. "It makes it hard with who you are going to put out there. I have faith and I know they can all do the job. I've seen it."
Pullen believes the Colonels' faith in each other has made the difference.
"We haven't completed that so-called perfect game, yet," he said. "We've had flashes of it and believing in each other. When we do that, we're successful. We do tend to slip back into that every now and again, but once again they rally around each other and come back. They pick it back up and they pick each other up."
The Colonels have needed to rebound twice in the postseason. They trailed Sherando 4-1 in the district quarterfinals before rallying to a 10-4 win. The Colonels were down 2-1 against Kettle Run in the semifinals before coming back for a 5-2 victory.
"I feel like as a team we always pick each other up," said Bell, who has not allowed a run in 10.2 playoff innings and has closed out each of the three wins. "No matter who or what happens, we're always going to come back and pick each other up."
Now the Colonels are ready to host a regional playoff game and Pullen is excited at the opportunity.
"Tonight's game was for one thing — to get a game at the Hott," he said after Tuesday's triumph in the district final. "The atmosphere there is going to be great. With our atmosphere and the hill, I look for it to be a packed crowd and just a lot of energy and excitement behind everybody. Our fans are great. They're behind us all of the time. They help and pick us up. It's just contagious."
Players say Pullen's attitude has been infectious as well in a season that may signal that there is a new player in the district race for seasons to come.
"He's an absolute great coach," Gross said. "I love the guy to death as a coach. Outside of baseball, he's always there for my back. He's brought a great atmosphere for the guys. He keeps us to a good standard in school and on the field. He's brought in a great atmosphere and the guys love him. He's a great coach."
— Contact Walt Moody at
This email address is being protected from spambots. You need JavaScript enabled to view it.
Follow on Twitter @WinStarSports1