James Wood's Waters to play football at Concord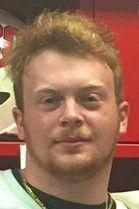 WINCHESTER — James Wood High School's Andrew Waters signed a national letter-of-intent to play football at Concord University in a ceremony at the high school on Monday afternoon.
Waters chose the West Virginia school over Westminster College, St. Vincent College and Shenandoah University. He verbally committed in March.
"It was basically just the environment down there, the people I could connect with — coaches, players, students, etc.," Waters said of why he chose Concord. "It felt a lot more like home."
Waters was a two-way starter for the Colonels in their abbreviated two-game season this spring. He played both on the offensive and defensive lines. On defense, he had four tackles (three for losses including a sack) as James Wood beat Sherando and Millbrook.
Waters, who bench presses more than 300 pounds and dead lifts more than 500, expects to play linebacker at Concord.
The Mountain Lions were 1-10 in their last full season in the Mountain East Conference in 2019. This past spring they were 1-0 before their season was shut down by COVID-19.
Since the 2019 season, Concord has hired a new head coach, one with a history of success in West Virginia. In December of 2019, the Mountain Lions hired Dave Walker, who built a powerhouse at Martinsburg High School. Walker won 248 games and eight state championships at Martinsburg. Prior to taking the Concord post, Walker had a 56-game winning streak at Martinsburg.
Waters, also a member of the Colonels outstanding baseball team, will major in criminal justice at Concord.