Former Wood standout Whitacre shines in relief role for Royals
By WALT MOODY | The Winchester Star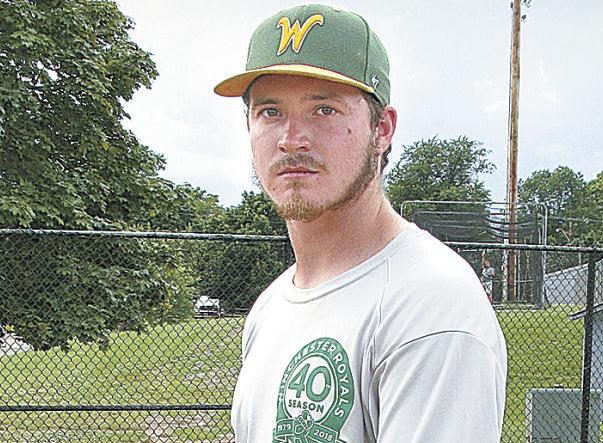 WINCHESTER — Bryan Whitacre remembers what it was like after a youth baseball practice at Jim Barnett Park to make his way over to Bridgeforth Field to watch the Winchester Royals play in the Valley Baseball League.
"The team would come over and we would watch, once or twice a week, every other week," Whitacre recalled. "I didn't follow them online at the time, but I definitely tried to come see games. I have good memories here around the field."
Now, Whitacre is making memories for the Royals.
The rising senior at Piedmont College is shining as a middle reliever for the Royals (14-14), who are working their way back up the North Division standings after a poor start.
Whitacre also has come on of late with five scoreless innings in his last three appearances entering Friday's play. He has held opponents scoreless in seven of his 11 appearances.
"He's exceeded expectations," said Royals manager Jacob Mays of Whitacre, a former standout at James Wood High School. "He's a guy who comes from a Division III program and he's playing against Division I players. He doesn't back down. He goes right after them with a bulldog mentality. He thinks he's better than you and that's the kind of edge you've got to have when you want to compete at a high level."
Mays, an assistant coach at Shenandoah University, wasn't sure what to expect from Whitacre because of some recent history. They played together for the same team in the Rockingham County Baseball League.
"It was kind of scary when he came here because he didn't see much success," Mays said of their playing time together in the RCBL. "He's come here and been lights out."
Whitacre certainly has a history of being "lights out" around these parts.
As a senior for the Colonels, Whitacre went 5-1 with a 2.76 ERA. He tied for first in the area with 53 strikeouts and was a First Team All-District and All-Winchester Star selection.
But, Whitacre is a much different pitcher from the one that battled Northwestern District foes.
"The difference from where I came from high school is that I've gotten on the same page with how to pitch a hitter, looking for their weaknesses and differences in swings," Whitacre said. "My command [is better]. I definitely didn't have the greatest command in high school. Command is a big thing."
Mays agrees. He said that Whitacre's ability to throw his fastball, curveball and off-speed pitches for strikes is the biggest differences he sees in right-hander.
Whitacre has walked just five batters, no more than one in any of his appearances.
"He's always had the stuff, just not the command," Mays said. "This year, he has command of all three pitches."
Coupled with an unorthodox delivery, Whitacre's command of the strike zone has baffled some of the Valley League's toughest hitters. He's struck out a whopping 23 batters in 12 innings and opponents are hitting just .143 against him.
"He's very deceptive in the way he delivers the baseball," Mays said. "He's a high to low three-quarters guy. He has good movement on his fastball. He has got a pitch that goes east, one that goes west and one that goes south. Anytime you can do that you can be successful, especially with a funky delivery."
Whitacre's season with the Royals got off to a shaky start. In his first appearance, he faced one batter and gave up a hit. That batter later came around to score, which meant Whitacre had an ERA of infinity.
"When you face one batter at a time, when something happens like that it gets hard to bounce back," Whitacre said. "It takes a lot of appearances and innings. Like at school, my biggest thing is the WHIP, not the ERA. It gives you a more accurate reading of where you're at. I think the numbers are coming in as a whole, but they are what they are. I like doing whatever I can to help the team win."
The WHIP indicates the number of walks and hits per inning pitched. Whitacre has allowed just 11 baserunners in 12 innings, a WHIP of 0.92. To put that number is perspective, Washington Nationals All-Star Max Scherzer (12-5) has a WHIP of 0.90 this season.
"Bryan's been one of the top pitchers in the league," Mays said.
Whitacre says the competition is definitely a step up from what he sees consistently at Piedmont, but he tries to keep a simple approach.
"In a way, it's definitely a little more than I'm used to at college, but at the same time it's the same simple game," he said. "Everybody is trying to do the same thing — put a run across home plate."
Mays is using Whitacre in relatively the same middle relief role that he has filled at Piedmont, but he's using him later in games. Whitacre, who has an 0-0 record, even picked up a save recently.
"It's definitely a good experience," he said. "It gets the adrenaline pumping to be in a close game and that they trust you with the ball."
Whitacre usually has a strong rooting section at Bridgeforth. His parents Delbert and Deanna try to make every game as does his brother Timothy and sister Brittany DeHaven.
Whitacre says there's no extra pressure competing before the home folks because making a Valley League roster comes with its own heat.
"There's a little pressure, but I think that's for everybody in the league because we're all brought here," he said. "You just don't walk on."
Whitacre said he's enjoyed getting the opportunity to play day-after-day in a league where games come in bunches.
"I love the grind," he said. "They preach it to us down at school — love the grind because that's what pays off at the end. I think everybody here loves it. That's why we're all here this summer. We all want to work harder and get better and help all of our colleges."
Back at school, Whitacre is loading up on the studies. He's working on a triple major at Piedmont.
"Right now I'm getting a physics engineering degree," he said. "I still have three years left, but I'm going to walk out with three degrees — math, physics and engineering. I want to go into civil engineering. I haven't decided between bridges or housing. Housing kind of runs in the blood. My grandfather has owned his own construction company for 50-some years now. My father had a construction company and still sort of does some construction and so does my brother [and did] my great grandfather. It's in the family tree."
Mays says Whitacre has a lot more than smarts in the classroom and could easily see him calling the shots from the dugout.
"He knows the game inside and out," Mays said. "If he ever wants to do coaching, he's going to be a heck-of-a coach. He knows what he's doing in every situation. He's almost calling pitches before I do. He knows what I want."
Whitacre, 21, said certainly this summer has been an eye-opener for his career.
"I think it's what I expected and more," he said. "It's one of the best experiences coming to the ballpark. It definitely meshes with what's going on at school as far as playing college baseball and it's a lot of fun to be here."
And, he gets to put on that green and gold uniform every night. He sees youngsters at the games looking just as wide-eyed as he was when he used to wander over from practice to catch a game and hear 'Are You Loyal to The Winchester Royals" played over the P.A. system.
"You can reach where you want to reach," Whitacre said of the opportunity to wear No.15 for the Royals. "It's a lot of fun being here and seeing the little kids come up. 'Years ago, I was in your shoes and you can do it. You've just got to work.'"
— Contact Walt Moody at This email address is being protected from spambots. You need JavaScript enabled to view it. Follow on Twitter @WinStarSports1