Athlete Spotlight: Brett Baker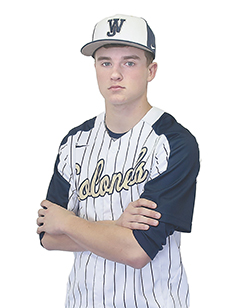 By ROBERT NIEDZWIECKI | The Winchester Star
Apr 30, 2018
Brett Baker
James Wood High School 18-year-old senior
Sport: Baseball.
Position: Center field
Parents: Bobbie Jo Baker and Chad Baker
Hometown: Winchester
What do you love about baseball: The pace of the game, and how competitive it can be at times.
Most memorable moment in baseball: Making the varsity team. It's not just being part of a team, it's being a part of a family. They treat you like your own family. My first year on varsity was a sophomore. When I made it, I was excited. I couldn't wait to tell my parents.
Most embarrassing moment in baseball: Probably against Fauquier [on April 18]. I went to swing and I hit my bat on the back of my helmet. I swung right before the ball was coming. I looked stupid.
Three people you can have dinner with, dead or alive: My grandfather, William, because I've never met him. He died before I was born, so I'd like to talk to him. Mike Trout; he's my favorite player. I like his energy and how he plays. He's explosive. And Drake; I just like how his music sounds.
If you could use a time machine, where/when would you go: Probably back to when Native Americans and cowboys interacted with each other. I think that would be interesting.
If you could go on a trip anywhere in the world, where would you go: Australia. I'd take my grandma Darlene with me, because that's a place that she put on her bucket list to visit.
Favorite teacher: Mr. [Jesse] Johnson, my gym teacher. He has a past of athletics, so we get along there, talking athletics. He's young too, so he kind of knows the same things that I do with newer technology. And we have the same kind of personality.
Favorite athlete: Mike Trout
Favorite team: Baltimore Orioles
Favorite movie: "Lone Survivor"
Favorite TV show: "SpongeBob SquarePants"
Favorite song: "Freaky Friday" by Chris Brown
Favorite food: Pizza
Plans after high school: I would like to continue my career in baseball, and study criminal justice in college. I would like to be an FBI agent. I want to try and make the community and country better by protecting people.
— Compiled by Robert Niedzwiecki