Dear James Wood Baseball Parents:
The Diamond Club is designed to help support the baseball program at James Wood High School. This club is a parent/coach organization benefiting the student/athletes that are participating on the JV/Varsity Baseball teams.
The Diamond Club strives to enhance our Baseball program by providing assistance to the coaching staff and players through fundraisers and club events. We have been able to purchase team meals, equipment, team apparel and senior gifts. Parent involvement and member participation is what makes this organization grow and continue to be successful.
Some of the things we are involved with: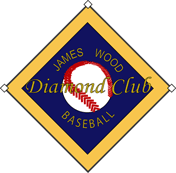 Community Service Projects
Mentoring Programs
Youth Camps
Fundraisers
Sponsorship programs
Team Meals
Provide Team Hats and Apparel
Field Maintenance & Equipment
Host end of season awards and picnic
Senior gifts
Come join us! Diamond Club meetings are the first Wednesday of each month at 6:30pm in room #236 at JWHS.

Sincerely,
James Wood Diamond Club